Legal Alerts | 03/15/2023
U.S. Environmental Protection Agency Proposes New Primary Drinking Water Regulations for Six Forever Chemicals
Regulation Would Apply to PFOA, PFOS, GenX, PFBS, PFHxS, and PFNA
On March 14, 2023, the U.S. Environmental Protection Agency (EPA) proposed new primary drinking water regulations for six of the most common per- and polyfluoroalkyl substances (PFAS):
• Perfluorooctanoic acid (PFOA)
• Perfluorooctane sulfonate (PFOS)
• Hexafluoropropylene oxide dimer acid and its ammonium salt (HFPO-DA or GenX)
• Perfluorobutane sulfonic acid (PFBS)
• Perfluorohexane sulfonate (PFHxS)
• Perfluorononanoic acid (PFNA)
The EPA proposes a National Primary Drinking Water Regulation having maximum contaminant levels (MCL) of 4 parts per trillion (ppt) for PFOA and PFOS. The drinking water regulation also proposes an MCL for a combination of GenX, PFBS, PFHxS, and PFNA in drinking water.
This regulation would also require water agencies to monitor for PFOA, PFOS, GenX, PFBS, PFHxS, and PFNA. The frequency of this monitoring will depend on the previous results. If the samples contain PFAS above the proposed regulatory standards, the public will have to be notified and treatment will be required.
EPA's PFAS Strategic Roadmap
In 2021, the EPA released the latest version of its PFAS Strategic Roadmap (Roadmap). This multi-year plan contained EPA's goals and priorities for addressing PFAS. The Roadmap included plans for advancing the science on PFAS's impacts, regulating PFAS at the beginning of its life cycle under the Toxic Substances Control Act, establishing updated public health goals and drinking water standards for PFAS substances, and designating PFAS as a hazardous substance under the Comprehensive Environmental Response, Compensation, and Liability Act (CERCLA), or Superfund law. The action taken by EPA on March 14 is one of the actions directed in the Roadmap.
New Maximum Contaminant Levels
PFOA and PFOS
EPA set the MCLs for PFOA and PFOS at 4 ppt and maximum contaminant level goal (MCLGs) at 0. This means that once the proposed regulation becomes finalized, drinking water must have less than 4 ppt of each PFOA and PFOS. These proposed nationwide limits are lower than any current state limits. For example, the states that have most aggressively regulated PFOA and PFOS in drinking water have set the following limits, either as MCLs or Response or Action levels: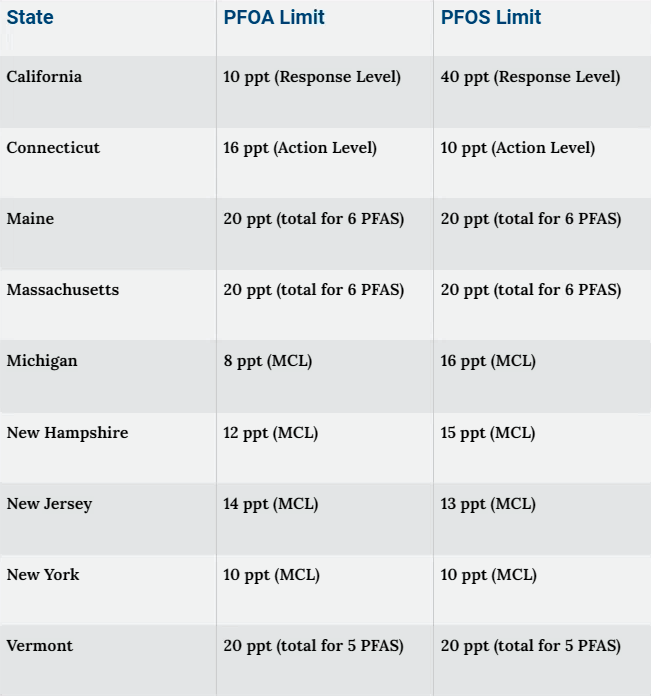 GenX, PFBS, PFHxS, and PFNA

In addition, the EPA proposed MCLs and MCLGs for a combination of GenX, PFBS, PFHxS, and PFNA at a hazard index of 1.0. This means that the concentration of these combined compounds will be used to determine whether the drinking water satisfies the MCLs.

The EPA has proposed to use a hazard index for GenX, PFBS, PFHxS, and PFNA because it has determined that a combination of these PFAS compounds is more dangerous than the individual compounds. The hazard index is intended to capture the increased risk of multiple PFAS compounds together. Although hazard indices are common for cleanup standards under CERCLA, this would be the first time that EPA has used a hazard index approach in setting drinking water standards. The proposed rule also requested comments on setting the following traditional MCLs for these substances: 10 ppt for GenX, 2,000 ppt for PFBS, 9 ppt for PFHxS, and 10 ppt for PFNA.

Impact
If EPA finalizes the proposed rules, drinking water systems in all states will have to monitor for PFOA, PFOS, GenX, PFBS, PFHxS, and PFNA. The frequency of the monitoring will depend on previously measured concentrations. If sampling determines that there is one of these PFAS chains present, water agencies will need to treat or blend water to reduce PFAS levels, or find a new source of drinking water.

The proposed rule would establish or reduce limits for PFOA, PFOS, PFHxS, and GenX for every state in the United States. These proposed nationwide limits are lower than any current state limits, which will, when adopted, require states to update their levels to at least meet the federal standards. In California, these MCLs will require additional monitoring for GenX and PFNA. The proposed MCLs are much lower than California's current PFOA and PFOS Response Levels.

EPA analyzed the costs and benefits of setting the MCLs for PFOA and PFOS at 10 ppt, 5 ppt, and 4 ppt, before recommending the lowest level. EPA estimated that the proposed MCLs would impact 3,400 – 6,300 public water systems serving a population of 70 – 94 million people. EPA acknowledged that setting the MCLs at 10 ppt instead of 4 ppt would significantly decrease the number of water agencies that must take action to manage PFOA and PFOS. It also stated, however, that an MCL of 10 ppt "would also result in millions of Americans continuing to be exposed to levels that have the potential for harmful levels of PFOA and PFOS that can feasibly be removed through treatment." EPA estimated that the proposed rule would cost between $721 million and $1.2 billion annually, and provide benefits from $908 million to $1.23 billion annually, depending on discount rates chosen.

These MCLs and MCLGs will become legally binding if EPA finalizes them and drinking water systems will have three years to comply. EPA stated that it plans to finalize the MCLs by the end of 2023.

Once the proposed rule is published in the Federal Register, there will be a 60-day public comment period. To be included in BBK's coalition that will be submitting comments on this proposed rule, please contact Ana Schwab.

Disclaimer: BBK legal alerts are not intended as legal advice. Additional facts or future developments may affect subjects contained herein. Seek the advice of an attorney before acting or relying upon any information in this communiqué.
Key Contacts
---
Related Practices