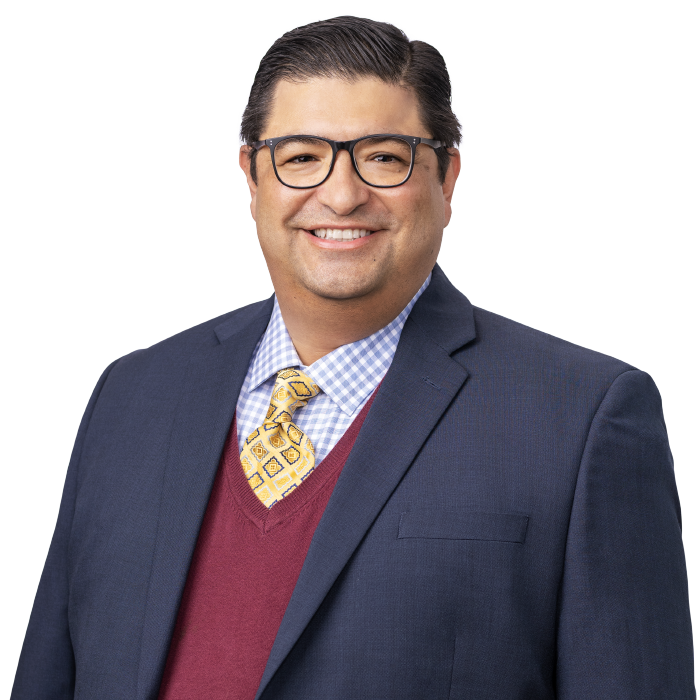 Partner
Guillermo A. Frias
Guillermo A. Frias is an experienced litigator with more than 20 trials. In representing public agencies, business entities and individual entrepreneurs, he works on highly complex cutting-edge legal issues in such areas as eminent domain, inverse condemnation, municipal law, CEQA, validation actions, and real estate, contract and commercial disputes.

Serving as a partner in Best Best & Krieger LLP's Municipal and Environmental Law & Natural Resources practice groups, Guillermo's extensive litigation experience gives him the requisite perspective for providing the creative and strategic legal advice often needed to resolve disputes without resorting to the courts.
Guillermo's litigation, trial and appellate efforts include:
Prevailing in a 30-day eminent domain trial resulting in a $21.9 million verdict against a school district
Prevailing in an eminent domain trial on behalf of the Los Angeles Unified School District that resulted in a defense verdict denying a fraudulent $2 million claim for loss of business goodwill
Prevailing in CEQA action on behalf of the City of Huntington Beach that resulted in a large senior center project being found CEQA compliant and authorizing the issuance of a conditional use permit
Prevailing in CEQA challenge to City of Monrovia's plan to expand its redevelopment area
Prevailing in trial on behalf of the City of Palmdale in complaint and writ of mandate action against the City of Lancaster for violating the prohibition against paying a relocation subsidy to a relocating car dealer
Prevailing in reverse-validation action that invalidated the City of Los Angeles' financing agreement for the Convention Center Hotel
Prevailing in trial on behalf of the City of Redondo Beach in action seeking specific performance of disposition and development agreement against a developer
Prevailing in quiet title action and adverse possession trial that preserved ownership of real property about to be lost to a real estate development company through fraudulent financing
Prevailing in arbitration on behalf of the City of Culver City in construction defect case where contractor claimed $3 million in damages
Representing numerous cities and successor agencies in challenging Department of Finance determinations in redevelopment dissolution cases
Challenging California Coastal Commission environmental determinations relating to a proposed Bolsa Chica development
Reported appellate cases include: City of Palmdale v. City of Lancaster (2014) 223 Cal. App. 4th 978 and City of Pasadena v. Cohen (2014) 228 Cal. App. 4th 1461.

Guillermo's public agency clients include LAUSD, CRA-LA and the cities of Culver City, Huntington Beach, Los Angeles, Santa Monica, Pasadena, Glendale, Ontario, Palmdale, Orange, Coronado and Inglewood. He has represented some of the country's most recognizable brands and companies in a variety of industries, including ConocoPhillips Corporation, Anadarko Petroleum Corporation, Yum Brands, Office Depot, Argent, MeriStar Hospitality, WNC Insurance, Chaya Tequila, Firelink Entertainment and Interco Brands. He is admitted to the U.S. District Court for the Central, Eastern, Southern and Northern districts of California.
Professional & Community Involvement
Mexican American Bar Association
AYSO Soccer Coach
Presentations
"CEQA and Eminent Domain: A Case Study Discussion of the Relationship Between the CEQA and Eminent Domain Processes," California Eminent Domain Institute CLE International Conference, March 16, 2023
"What Is the Current State of Redevelopment Law in California?" CLE International's 24th Annual Southern California Eminent Domain Conference, March 3, 2022
"Resolution of Necessity Hearings," 22nd Annual Conference Eminent Domain: The Basics & Beyond, March 5, 2020
"Mock Resolution of Necessity Hearing: Agency Attorney," IRWA 2018 Education Seminar & Reception, International Right of Way California Chapter, Oct. 11, 2018
Education & Admissions
Education
University of California, Los Angeles School of Law
University of California, Berkeley