Diversity, Equity & Inclusion

Best Best & Krieger LLP fosters a culture that's rooted in diversity, equity and inclusion. We embrace diverse perspectives and celebrate unique differences. Our firm's mission is centered on cultivating and promoting a workplace and legal industry that reflects the diversity of the clients and communities we serve. At BB&K, we are proud to honor the broad range of backgrounds and perspectives that are woven into the fabric of our firm. Our commitment to embracing diverse perspectives can be evidenced by our many ongoing initiatives and recognitions.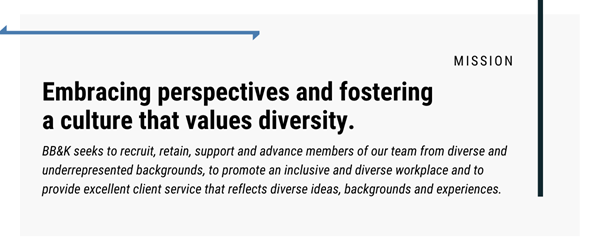 IT'S WHO WE ARE
BB&K nurtures a culture that values, encourages and embraces diversity. We celebrate differences across race, gender, ethnicity, disability and sexual orientation, among others, and make it our mission to treat every colleague, client and community member with fairness, dignity and respect. Our firmwide Diversity, Equity & Inclusion Committee and various affinity groups provide open forums for our team to support, and connect with, one another while addressing critical and timely issues. The DEI Committee also spearheads regular firm programming and initiatives to ensure engagement and ongoing education at every level.

Meet our DEI Committee leaders:
AWARDS AND RECOGNITION
Our team's personal experiences and dedication to increasing diversity in the law are reflected in the national, regional and local recognitions the firm and attorneys continue to receive. We are proud of these acknowledgements and remain committed to expanding our diversity year after year.​​

BUILDING ON ALLYSHIP
At BB&K, we are always listening and learning. That's why our attorneys and staff are active in diversity-minded organizations and committees advancing diversity, equity and inclusion within our firm, the legal industry and communities in which we live and serve.
California Asian Pacific American Bar Association
California Lawyers Association
Hispanic Bar Association of the Inland Empire
Inland Empire Latino Lawyers Association
Korean American Bar Association of San Diego
Latina Lawyers Bar Association
Lawyers Club of San Diego
Mexican American Bar Association
National Asian Pacific American Bar Association
Orange County Asian American Bar Association
Orange County Women's Law Association
San Diego County Lawyers Association
Thurgood Marshall Inns of Court
PATHWAY TO BB&K
An ongoing recruitment goal of our firm is to increase the diversity of our attorneys and staff. The value of diversity for BB&K, and therefore our clients, comes from the melding of differing experiences, cultures, talents, viewpoints and styles to drive creative and innovative solutions. We leverage different perspectives to approach complex legal issues in a way that provides the best outcomes for our clients.

Our team is actively looking for opportunities to attract, retain and advance individuals from a diverse range of backgrounds at the summer clerk, entry- and lateral-hire levels. As a firm, BB&K provides ongoing professional development, mentoring programs and a First Year Law Student Diversity Fellowship/Scholarship Program to ensure that opportunities for success are available to everyone.