Press Releases
Apr 01, 2021
JD Supra Recognizes BB&K Attorneys With 2021 Readers' Choice Awards
Construction Law Top Author and a Top-Read Tax Article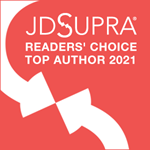 Recognizing top authors and firms for their thought leadership in key topics, JD Supra named Partner Michael Maurer a Top Author in Construction Law and noted that a Proposition 19 article by Of Counsel Christine Chacon and Associate Monica Rosas was a Top-Read Article.

In addition to articles about land use and community resiliency, Mike's recent articles on JD Supra also focus on how COVID-19 impacts local government agencies. Mike provides guidance to public agencies on a number of issues, including public infrastructure and construction laws. He advises clients through major construction and renovation projects that have optimized public investment by implementing innovative solutions to legal problems.

In their Top-Read Article titled "California Proposition 19: What Does This Mean for Property Tax Transfers and Exemptions?," Christine and Monica analyze the new law's financial consequences for inheritance recipients. The Trusts & Estates attorneys discuss in the article how the landmark law, passed by California voters in November, changes 1978's Proposition 13.

The JD Supra Readers' Choice Awards recognize top authors for their visibility and thought leadership across 28 key, cross-industry topics and firms for their visibility and engagement in 2020. This Award uses reader data to identify excellence and achievement of selected authors who have published on its platform.
###
Best Best & Krieger LLP is a national law firm that focuses on environmental, business, education, municipal and telecommunications law for public agency and private clients. With more than 200 attorneys, the law firm has 10 offices nationwide, including Los Angeles, Ontario, Riverside, Sacramento, San Diego and Washington, D.C. For more information, visit www.bbklaw.com or follow @BBKlaw on Twitter or @BestBestKrieger on LinkedIn.
Continue Reading