Authored Articles & Publications
Jun 01, 2012
Wireless Antenna Issues Paper Published at League of California Cities City Attorneys' Conference
By Gail Karish, Harriett Steiner, Joe Van Eaton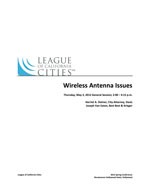 JUNE 1, 2012
League of California Cities

Wireless antenna siting raises significant political and legal issues that are becoming ever more complex. A decade ago, localities revised local zoning codes to accommodate the placement of large towers in their communities; now communities are revisiting those codes as providers seek to place new or replacement installations on utility poles and light standards in the rights of way. City Attorneys – often in the face of heated public opposition to wireless placements and threats of litigation from wireless service providers and tower companies - must advise local decision-makers on the complex interplay of federal law, Federal Communications Commission (FCC) regulations and orders, state statutes and California Public Utilities Commission (CPUC) rules and orders, and local ordinances – all of which can impact the approval process and the proposed deployment.

To download a copy of the paper, please click here.

Best Best & Krieger attorneys Gail Karish, Harriet Steiner, and Joe Van Eaton co-authored this paper published at the League of California Cities 2012 City Attorneys' Conference.
Continue Reading