Authored Articles & Publications
Jan 06, 2017
Understanding the Basics of Public Service Ethics Laws
BB&K Attorneys Contributed to Update of ILG's Flagship Ethics Resource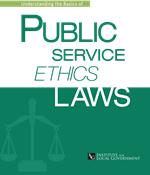 By Jeffrey Ballinger and Ruben Duran

Best Best & Krieger LLP partners Jeffrey Ballinger and Ruben Duran contributed to the Institute for Local Government's "Understanding the Basics of Public Service Ethics Laws." The guide, published late last year, discusses a variety of ethics laws and principles and their important role in public service.

The guide is available by clicking here.

The ILG is the nonprofit research affiliate of the League of California Cities, the California State Association of Counties and the California Special Districts Association.
Continue Reading