Legal Alerts
Jun 27, 2016
HUD Proposes Two New Rules on Broadband Infrastructure and Consolidated Planning
Failure to Comply Could Impact HUD Funding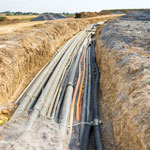 This is the second in a series of three BB&K Legal Alerts that examines the issues of digital inclusion in public housing, and local government's role in bringing about access to these services. "FCC's Lifeline Order" was first. Look for the third on Thursday dealing with the availability of E-Rate funding for city-owned or rented connections.

The Department of Housing and Urban Development has issued two Notices of Proposed Rulemaking to impose new and unfunded mandates on local governments related to the accessibility of broadband services in federally funded housing. Comments on each of the proposals are due by July 18.

The first proposal mandates the Installation of Broadband Infrastructure in any new construction or substantial rehabilitation of multi-family rental housing funded by HUD. The second would impose an obligation on local governments to evaluate the availability of broadband access and the vulnerability of housing occupied by low- and moderate-income households to natural hazard risks.1 While no new funding is proposed for either mandate, the rule would make the costs for such actions recoverable under a large array of HUD funding programs.

Broadband Infrastructure Mandate
The proposed rule further requires that the broadband infrastructure must support high-speed Internet that is "accessible" in each unit and adopts the Federal Communications Commission's definition of broadband currently set at 25 Mbps per second download, 3 Mbps upload.

The proposed rule defines broadband infrastructure as cables, fiber optics, wiring or other permanent infrastructure, including wireless infrastructure, as long as the installation results in broadband infrastructure capable of supporting the transmission speeds established by the FCC in each dwelling unit.

The proposed rule would require that "Any new construction or substantial rehabilitation, as defined by 24 CFR 5.100, of a building with more than four rental units must include installation of broadband infrastructure…." The proposed rule would apply to no less than the following 10 different federal programs that provide for multi-family rental housing, including:
Choice Neighborhoods Implementation Grant
Community Development Block Grant
Continuum of Care
HOME Investment Partnerships
Housing Opportunities for Persons With AIDS
Housing Trust Fund
Project-Based Voucher
Public Housing Capital Fund
Section 8
Supportive Housing for the Elderly and Persons with Disabilities programs

While we believe that this proposal should be supported, Best Best & Krieger has identified a number of issues that must be clarified, and we believe that there are additional issues that must be raised. HUD has requested input on the following questions:
Should this proposed rule be applied to other HUD programs, particularly additional multi-family housing programs (such as Rental Supplement, Rental Assistance Payment, Moderate Rehabilitation Programs, etc.) or programs addressing single-family housing? Should any programs covered by this proposed rule be removed?
Given that the definition of the term "substantial rehabilitation" will determine which projects (other than new construction) are affected by this rulemaking, should the definition be changed in any way?
How much does it cost to add the installation of broadband infrastructure to a pre-planned new construction or rehabilitation project? Are HUD's estimates for the labor and materials costs for installing broadband infrastructure accurate? What data can the public share with HUD about the most cost-effective way for broadband infrastructure to be installed during a new construction or rehabilitation project?
The proposed rule provides exceptions to the requirements if compliance would be infeasible due to cost, location or structural concerns. Are these exceptions too broad or too narrow? What is the best way for grantees to demonstrate to HUD that installation of broadband infrastructure is not feasible, and what would appropriate sanctions be if grantees do not comply, even if it was feasible? Do any grantees have experience with a project in which installing broadband infrastructure was physically or economically infeasible, and under what circumstances was it infeasible?
When evaluating whether the rehabilitation being done meets the threshold in the definition of substantial rehabilitation, should HUD use the pre-rehabilitation estimates for the project alone, or should HUD include increases in rehabilitation costs that arise in the process of rehabilitation?
BB&K has identified some issues of concern, including that the proposed rule would set the rehabilitation threshold at 75 percent rather than the traditional 50 percent. We also believe that it is important that HUD acknowledge that, absent digital education and access to equipment, that investment in broadband infrastructure will be frustrated.

Planning Mandate
The mandate of a "HUD Consolidated Plan" (24 CFR Part 91) has existed since 1994. The consolidated plan requirement seeks to ensure a local government conducts consultations with citizens and civic organizations to ensure HUD funds are expended in a manner that best meets that community's needs. The proposed rule expands with whom a community must consult to include broadband Internet service providers, and organizations engaged in narrowing the digital divide such as schools and digital literacy organizations.2 The proposal also obligates HUD recipients to include in their housing market analysis (24 CFR § 91.210(a)), a description of the "…broadband needs of housing occupied by low- and moderate-income households based on an analysis of data for its low- and moderate-income neighborhoods in the National Broadband Map… [or]… broadband availability data in the FCC Form 477 or other data identified by the jurisdiction, for which the source is cited in the jurisdiction's Consolidated Plan." 3

BB&K'S Response
BB&K believes that HUD is mistaken in its conclusion that the costs involved with the new mandatory broadband consultation requirements and additional areas for reports in the "housing market analysis" will not result in meaningful costs. Since no new federal funding is made available in the rules, it is clear that these are unfunded mandates. BB&K will work with our clients to assist in meeting these new obligations in the most efficient manner.

In addition, BB&K will assemble a coalition to file comments with HUD in the two proceedings by the July 18 deadline. We would also welcome your municipality or agency to the coalition and invite your expertise and insights into these laudable, but unfunded, efforts to close the digital divide. To learn more about BB&K's efforts in this area, contact one of the authors of this Legal Alert listed to the right in the Telecommunications practice group, or your BB&K attorney.

This issue is especially important given the recent developments in the Lifeline Broadband program that establishes residency in public housing as an eligibility criteria. (Learn more about Lifeline Broadband by clicking here.)

Please feel free to share this Legal Alert or subscribe by clicking here. Follow us on Twitter @BBKlaw.

Disclaimer: BB&K Legal Alerts are not intended as legal advice. Additional facts or future developments may affect subjects contained herein. Seek the advice of an attorney before acting or relying upon any information in this communiqué.
---
[1] The proposed rule changes would also require consultation with agencies whose primary responsibilities include the management of flood-prone areas, public land or water resources, and emergency management agencies to address the sustainability of public housing. We are limiting our review to the broadband requirement.
[2] The proposed rule changes would also require consultation with agencies whose primary responsibilities include the management of flood prone areas, public land or water resources, and emergency management agencies to address the sustainability of public housing. We are limiting our review to the broadband requirement.
[3] The proposed rule also requires that the community's housing marketing analyses to "… describe the vulnerability of housing occupied by low- and moderate-income households to increased natural hazard risks associated with climate change…"
Continue Reading