Legal Alerts
Jun 30, 2016
E-Rate Program Proposed Expansion
FCC Looking to Increase Eligibility for Reimbursement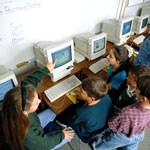 This is the third in a series of three BB&K Legal Alerts that examines the issues of digital inclusion in public housing, and local government's role in bringing about access to these services. "FCC's Lifeline Order" and "HUD Proposes Rules on Broadband Infrastructure" ran previously.

The Federal Communications Commission is seeking comments on a proposal to expand what services are eligible for reimbursement under the E-rate eligible services list for the funding year starting July 1, 2017. The eligible services list provides broadband connections to schools and libraries as part of the Universal Services Fund discount program. Comments are due July 5, replies July 20.

According to the Public Notice announcing the changes and seeking comments, the FCC would like to expand the description of eligible dark fiber service under Category One. Generally speaking, "dark fiber" leases are commercial arrangements in which a customer purchases use of a portion of a provider-owned and maintained fiber network. "Lit fiber services" refer to the more conventional purchase of services from a telecommunications provider. Under the proposed change, the description of eligible services would now read:
Leased dark fiber (including dark fiber indefeasible rights of use, or IRUs, for a set term). This revision is intended to further explain the distinction between leased dark fiber and self-provisioned fiber under E-rate program rules.
Among other possible updates, the public notice proposes including a new explanation on the treatment of connections between multiple buildings of a single school, classifying those located on a single campus as Category Two internal connections and those connecting buildings on separate campuses as Category One connections.

E-Rate supports two types of eligible services:
Category One covers services needed to provide broadband connectivity to schools and libraries, and
Category Two covers internal connections.

Last year, the FCC's Wireline Competition Bureau adopted several changes to the eligible services list to provide greater options for E-Rate applicants to utilize leased-lit fiber, leased dark fiber (including fiber made available under IRUs), and self-provisioned broadband networks.

Best Best & Krieger believes that the proposed changes could be very helpful to localities that have municipal or institutional networks to provide broadband connections to their own schools and libraries, and earn the subsidy that the FCC makes available for such services.

Additionally, by clarifying that the eligible services list include dark fiber IRUs, local governments that have virtual broadband networks (i.e., IRUs) on commercial networks might also be eligible for the subsidy, provided that they follow the E-Rate procedure for competitive bidding.

BB&K is assembling a coalition of local governments to review the proposal in greater detail and file comments in the proceedings. Contact one of the authors of this Legal Alert listed at right in the Telecommunications practice group, or your BB&K attorney.

Please feel free to share this Legal Alert or subscribe by clicking here. Follow us on Twitter @BBKlaw.

Disclaimer: BB&K Legal Alerts are not intended as legal advice. Additional facts or future developments may affect subjects contained herein. Seek the advice of an attorney before acting or relying upon any information in this communiqué.
Continue Reading