Legal Alerts
Apr 06, 2016
U.S. Supreme Court Holds States and Localities May Continue to Draw Voting Districts Based on Total Population
Total Population, However, May Not Be the Only Standard Upon Which Voting Areas Can Be Based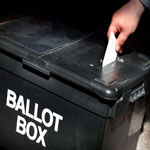 This week, the U.S. Supreme Court issued an important decision in Evenwel v. Abbott clarifying that state and local jurisdictions can legally continue to draw voting areas using total population, as opposed to using figures limited to only eligible voters in the jurisdiction. However, the decision does not provide that total population is the only standard upon which voting areas can be based, leaving the door to this controversial issue open for now.
While we expect issues associated with voting rights to continue to be a hot topic in the courts in the foreseeable future, the Court's decision in Evenwel is welcome news to states and localities across the country that currently use total population, as opposed to voter-eligible population, to draw voting areas. The fact that an adverse ruling would have "upset a well-functioning approach to districting that all 50 states and countless local jurisdictions have long followed" appears to have played a role in the Court's decision. Needless to say, a contrary finding would have resulted in significant financial impacts as new voting areas would need to be drawn without any guidance or examples available for voting areas based on voter-eligible population.
Currently, a number of California cities, school districts and special districts face legal challenges under the California Voting Rights Act (California Elections Code section 14025 et seq.). While the CVRA is a "far from perfect" law, as noted in its signing message, it should not be ignored by public agencies, particularly because it allows a prevailing plaintiff to recover reasonable attorneys' and expert witness fees.
Due to the high financial risk associated with a lawsuit under the CVRA, some public entities are voluntarily converting from at-large election systems (where all voters within a jurisdiction elect all governing body members) to voting-area election systems (where a jurisdiction is divided into voting areas and voters within a specific voting area only vote for a governing body member from the voting area), which are the only recognized "safe harbor" under the CVRA. In doing so, public entities can ensure they retain control over the drawing of voting areas, rather than ceding that control to a court or potential plaintiffs. The Supreme Court's decision simplifies the already sensitive endeavor by a city, school district or special district of evaluating compliance with the CVRA and potentially changing election systems. Additionally, it prevents voting areas having to be immediately redrawn by those entities that just completed a change to a new election system.
Although the Supreme Court decision "unanimously" upholds that total population is an appropriate measure for drawing voting areas, the Court left the door open for voting maps to alternatively be drawn using voter-eligible population. Whether such an approach is constitutional will be left for a future Supreme Court decision. In the meantime, states and localities have clarification that they can continue drawing voting areas with equal total population.
For more information about this decision and how they may impact your agency, contact the authors of this Legal Alert listed at the right in the firm's Municipal Law and Special District practice groups, or your BB&K attorney.

Please feel free to share this Legal Alert or subscribe by clicking here. Follow us on Twitter @BBKlaw.

Disclaimer: BB&K Legal Alerts are not intended as legal advice. Additional facts or future developments may affect subjects contained herein. Seek the advice of an attorney before acting or relying upon any information in this communiqué.
Continue Reading