Legal Alerts
Jan 25, 2016
Office of Planning and Research Proposes Revisions to State CEQA Guidelines
Comments Sought by Feb. 29 on the Transition from LOS to VMT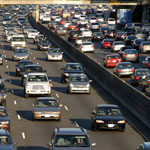 The California Office of Planning and Research has issued proposed revisions to the State CEQA Guidelines implementing Senate Bill 743 (2013). SB 743 directed OPR to update the Guidelines to include alternative methods of measuring transportation impacts under CEQA, thus changing the metric for measuring traffic impacts from level-of-service to vehicle miles traveled. While OPR released an initial draft of proposed updates to the Guidelines in August 2014, it has now made numerous revisions intended to reflect public input and incorporate state policies regarding greenhouse gas emissions reductions.

The proposed revisions include several changes that may have significant implications moving forward. For example, much of the detail OPR originally proposed to include in Guidelines section 15064.3 and Appendix F was moved to a new draft technical advisory. While this advisory is not binding on lead agencies, it provides "guidance" on how to assess VMT, and contains recommendations regarding thresholds of significance, safety and mitigation measures.

Additionally, OPR has now recommended a two-year "opt-in" period to accommodate those agencies that need time to work through the transition from an LOS to a VMT-based analysis. If adopted, the revisions would apply statewide after this two-year period.

Deadline for comments is 5 p.m. on Feb. 29.

For more information or assistance preparing and/or submitting comments to OPR, please contact one of the attorney authors of this Legal Alert listed at right in the Environmental Law & Natural Resources practice group, or your BB&K attorney.

Disclaimer: BB&K Legal Alerts are not intended as legal advice. Additional facts or future developments may affect subjects contained herein. Seek the advice of an attorney before acting or relying upon any information in this communiqué.
Continue Reading