Legal Alerts
Jan 15, 2016
New California Law Pushes Cities to Approve Electric Vehicle Charging Stations
Large Cities Are Required to Adopt Appropriate Ordinance By Sept. 30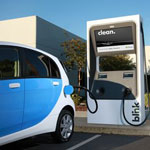 A new law that just went into effect pushes local governments to approve applications for the installation of electric vehicle charging stations. Enacted by AB 1236, the law requires cities and counties to approve applications for the installation of electric vehicle charging stations, except in very narrowly defined circumstances. The law also requires cities and counties with populations greater than 200,000 to adopt an ordinance by Sept. 30 that creates an expedited, streamlined permitting process for electric vehicle charging stations. Smaller jurisdictions have until Sept. 30, 2017 to do the same.

The law, which adds Government Code section 65850.7 to the state's Planning and Zoning Law, significantly limits local governments' discretion over the approval of applications to install electric vehicle charging stations. The new provision expressly declares the issue a matter of statewide concern, and thus applies to both general law and charter cities. The statute mandates that local governments administratively approve such applications through issuance of a building permit or similar nondiscretionary permit. Local review of an application is limited only to whether it meets all local, state and federal health and safety requirements, and limits local requirements to only those necessary to ensure that the stations will not have specific, adverse impacts on public health or safety. In the event a local agency makes a finding, based upon substantial evidence, that a proposed installation will have a specific, adverse impact, the agency may require the applicant to instead apply for a use permit. Denial of an application for a use permit, in turn, requires specific written findings based upon substantial evidence that the proposed installation would have a specific, adverse impact on public health or safety, and that there is no feasible method to satisfactorily mitigate or avoid the impact.

In clarifying what qualifies as a "specific, adverse impact," the new law specifically defines that phrase to mean a significant, quantifiable, direct, and unavoidable impact that is based on written, objective and identified health or safety standards or policies. This is a very high threshold, which likely means that local governments will only be able to require a use permit or deny a permit altogether in rare circumstances.

In developing the permitting process, local governments must adopt an ordinance and a checklist of all requirements that a charging station must comply with to be eligible for an expedited review. Applications that satisfy the requirements in the checklist are deemed complete and, consistent with the adopted ordinance, the local agency must thereafter approve the application and issue all required permits. The new law requires the checklist and permitting requirements to be published on the agency's website, and mandates that local governments accept electronic application submissions and electronic signatures.

If you have any questions about this law or how it may impact your agency, please contact the attorney authors of this Legal Alert listed to the right in the firm's Municipal Law practice group, or your BB&K attorney.

Please feel free to share this Legal Alert or subscribe by clicking here. Follow us on Twitter @bbklaw.

Disclaimer: BB&K Legal Alerts are not intended as legal advice. Additional facts or future developments may affect subjects contained herein. Seek the advice of an attorney before acting or relying upon any information in this communiqué.
Continue Reading