Legal Alerts
Jul 02, 2015
Arizona Town's Content-Based Sign Rules Struck Down by U.S. Supreme Court
Local Agencies Urged to Review Sign Codes in Favor of Content-Neutral Rules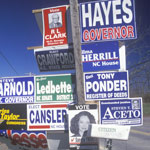 The United States Supreme Court recently struck down portions of an Arizona town's sign code that subjected ideological, political and directional signs to different rules with respect to size, location and length of display time. In Reed v. Town of Gilbert, Arizona the Supreme Court found that such rules were content-based (as opposed to content-neutral) and, therefore, valid only if narrowly tailored to serve a compelling government interest. The Court concluded that the Town failed to meet this very strict legal standard. On the other hand, the Court was clear that content-neutral rules are permissible and subject to a more lenient standard of review. Therefore, as long as the regulation is not based upon a sign's message, local governments may regulate the size, lighting, location, timing, and number of signs, including fixed versus electronic messaging, placement on public versus private property, commercial versus residential property and on-premises versus off-premises signs.

The Gilbert, Arizona sign code generally prohibits the display of outdoor signs without obtaining a Town permit. However, the code exempts various types of signs from this permit requirement. Among these are ideological, political campaign and temporary directional signs. These three types of signs were subject to different rules as to size, location and display time. For example, ideological signs could be up to 20 square feet and could be displayed in any zone indefinitely. Political campaign signs could be up to 16 square feet on residential property and up to 32 square feet on non-residential property, and displayed up to 60 days prior and 15 days after an election. Temporary directional signs to local religious, charitable and similar community events were subject to the most restrictive standard. They could be no larger than six square feet each, with a maximum of four signs on any one property, and could be displayed on private property or the public right of way for no more than 12 hours before and one hour after the event.

A local "itinerant" church (one with no permanent location) often posted temporary directional signs around the Town to inform parishioners where services would be held that week. However, on several occasions, the church didn't remove the signs within the short timeframe set by the Town's sign code and was, therefore, cited by the Town. When efforts to work out an accommodation proved unsuccessful, the church sued the Town on grounds that the sign code was an impermissible content-based regulation in violation of the First (free speech) and Fourteenth (equal protection under the law) Amendments.

The Supreme Court held that the sign code was content-based on its face because it subjected signs to different rules depending upon the message conveyed (whether ideological, political or directional). Content-based regulations are subject to the strictest review by the Court and are presumed unconstitutional unless the local agency can show that they are narrowly tailored to serve a compelling government interest. Local agencies can rarely satisfy this standard, as was the case here. The Court found that the sign code was not narrowly tailored to protect local aesthetics because an ideological sign (which may be larger and remain indefinitely) can cause as much or more impact than a more strictly regulated temporary directional sign. The Court also discounted the fact that the Town had no specific personal disagreement with the church's message. Content-based regulations are presumed unconstitutional whether or not a local agency has a problem with a particular message.

Local agencies are strongly urged to review their sign codes to evaluate whether they have similar rules that treat signs differently based upon the content or type of message conveyed. For more information regarding the Supreme Court's decision and how it may impact your local code, please contact one of the attorney authors of this legal alert listed to the right in the Municipal Law practice group, or your Best Best & Krieger attorney.

Please feel free to share this Legal Alert or subscribe by clicking here. Follow us on Twitter @bbklaw.

Disclaimer: BB&K legal alerts are not intended as legal advice. Additional facts or future developments may affect subjects contained herein. Seek the advice of an attorney before acting or relying upon any information in this communiqué.
Continue Reading